As our operating cities and towns start moving again, we want our passengers and drivers to feel safer when travelling with City Taxis by introducing protective screens.
We have continued to introduce steps to our service which will reduce the risk of the spread of Covid-19. This step will offer drivers and passengers greater peace of mind when travelling together.
City Taxis have also provided drivers with free cleaning equipment in the form of a Virucidal cleaner, in addition to masks, gloves, hand sanitiser and blue roll. All drivers are advised to clean down their screen after every journey. There is also the three-rule policy which allows only three passengers to travel in the rear of a saloon car leaving the front passenger seat free. Our drivers are also advised to wear facemasks when customers are in the car.
Kevin Flint, Operations Director of City Taxis, said
"Currently there have been over 500 screens installed in our saloon fleet. We feel the screens are a huge step in restoring confidence to the taxi trade through these difficult times. By having the screens installed it creates a safer environment for both passengers and drivers to travel. The screens aren't compulsory for drivers, but customers can request a "Screened Vehicle" through all of our booking sources, including the City Taxis app".
Aftab Ahmed, who is a long serving and loyal driver for City Taxis, added
"I am in my sixties, self-employed and in the high-risk category for Covid-19. My wife has an underlying lung condition which would probably mean an un-survivable case if she caught the virus. For her and my own safety I chose to stop work on the 18th of March and isolated for ten weeks. The clear polycarbonate screen presented me an opportunity to get back to work – it is hardly noticeable yet provides a divide between the driver and the passengers on the back seat. That and the use of anti-viral cleaning products to wipe down all surfaces after every trip, gives me confidence to work knowing that both passengers and I are safer. I'm happy to recommend the safety screen to all my colleagues."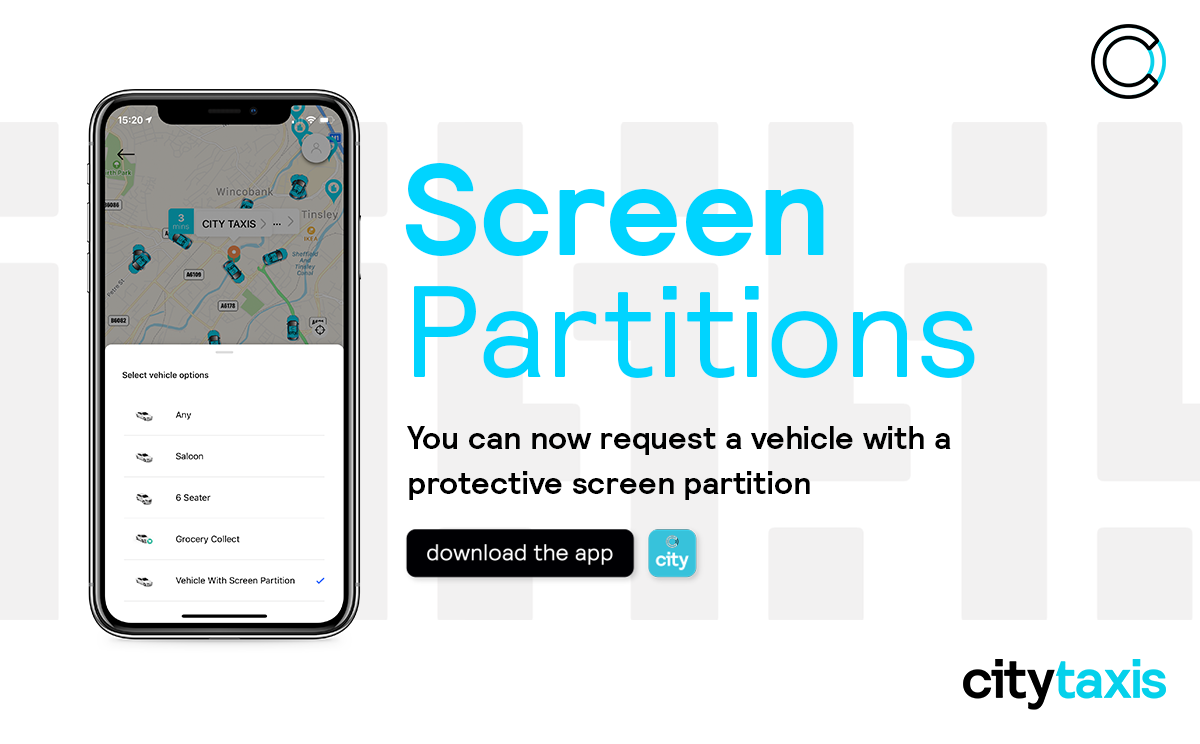 Additionally, throughout the Covid-19 period, City Taxis have been providing essential patient transport for the NHS, Yorkshire Ambulance Service (YAS) and East Midlands Ambulance Service (EMAS) across the Yorkshire, Derbyshire & Humber regions.
As the landscape continues to change, we'll continue to change with it. City Taxis are committed to providing our communities with the very best in private hire transportation and we will constantly monitor our customer experience to ensure we are doing the very best to keep our region and drivers moving safely.
#StaySafer #TravelbyTaxi