We have teamed up with Sheffield City Council to provide FREE journeys to and from Covid-19 vaccination/booster appointments or walk-ins*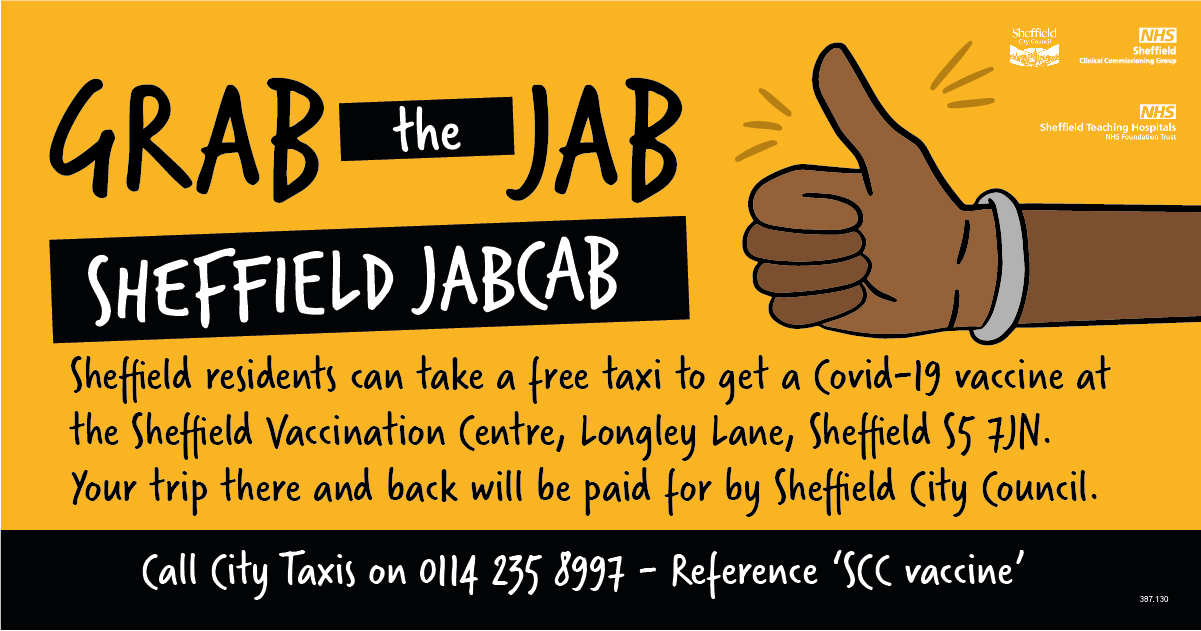 The new "Jab Cab" scheme is SCC's latest pledge to encourage and support those wanting to get vaccinated. Free City Taxis will be available to all Sheffield** residents travelling to and from the Longley Lane Vaccination Centre, making it easier to get their first or second dose and booster jab.
Jab Cabs are only available for bookings to or from the Sheffield NHS Vaccination Centre, Longley Lane, Sheffield, S6 7JN.
The centre is open 7 days a week, 08:00 – 19:00, and accepts both appointments and walk-ins*.
To find out more about the scheme, visit the Sheffield City Council Website here: https://www.sheffield.gov.uk/home/your-city-council/coronavirus-hub/coronavirus-getting-vaccinated
*Walk-ins available to 16+ only. 12-15 years old must book an appointment.
**Applicable on journeys to and from following Sheffield postcodes: S1, S2, S3, S4, S5, S6, S7, S8, S9 S10, S11, S12, S13, S14, S17, S20, S35, S36, S60, S61, S95, S96, S97, S98, S99