Victoria Patton has been an artist and designer for over 15 years since she graduated from Falmouth College of Art in 2004.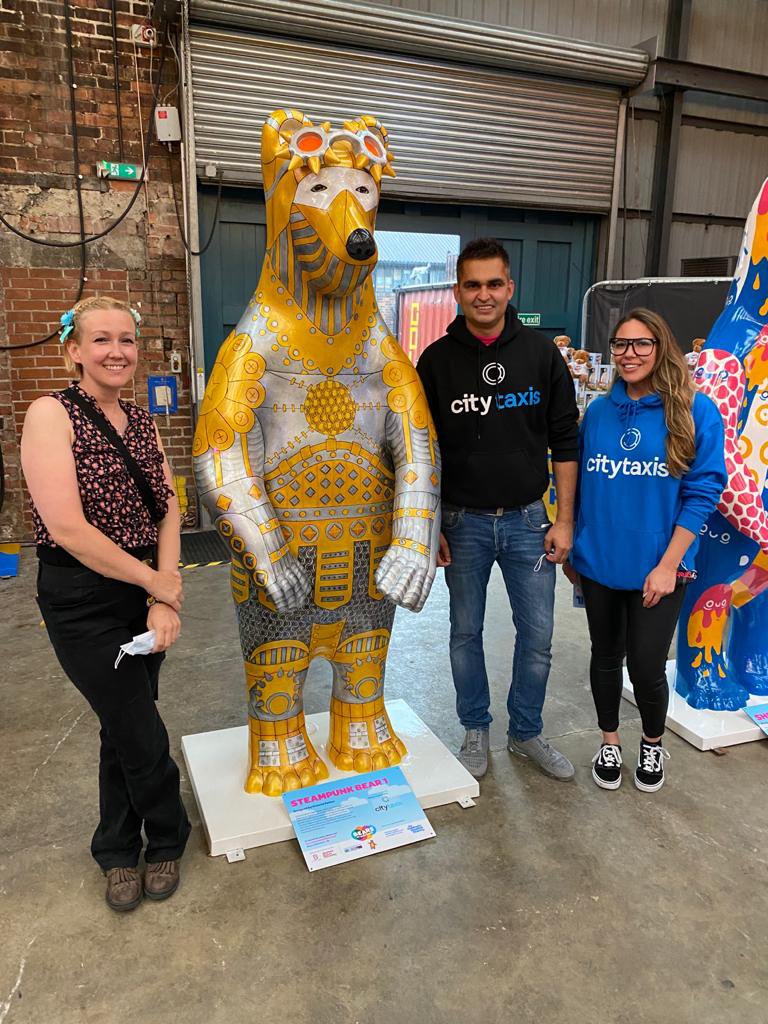 Steampunk Bear Artist, Victoria Patton, at the Bears of Sheffield Preview Event with City Taxis Managing Director Arnie Singh and Marketing Manager Sacha Skinner
She creates illustrations, paintings and sculptures which combine linear shapes and patterns with bold or unusual colours. Much of her work includes conceptual elements which ask the viewer to think beyond the aesthetic. 
Victoria's design for her Bear draws inspiration from Steampunk. Steampunk is often referred to as a futuristic yet retro style that incorporates technology and designs inspired by 19th-century industrial steam-powered machinery. 
Her sculpture is depicted in a steel style armour which is a direct reference to Sheffield's industrial roots, specifically the city's world-famous steel production during the Industrial Revolution. 
City Taxis have sponsored Steampunk bear in support of The Children's Hospital and their 'Bears of Sheffield' trail, which is formed of 60 big bears and 100 little bears placed across the city, each being sponsored by schools, businesses and organisations.
To read more regarding our bear and our involvement in the 'Bears of Sheffield' scheme please visit this link: https://citytaxis.com/bearsofsheffield/
To donate and support Sheffield Children's, please visit the link below. All money raised through donations will help Sheffield Children's where is it needed most, which is currently a new cancer and leukaemia ward.
https://www.justgiving.com/campaign/CityTaxisSteampunk
Thank you on behalf of all the City Team for your support 
#LoveLocal #BearsofSheffield