We are delighted to announce our latest charity partners for 2022/23, Barnsley Hospice!
Since finalising our City Charity strategy earlier this year, we've been working with our Site Managers in each of our operating areas to select several local charities that we believe could really benefit from our support. With the help of the Barnsley team, we identified Barnsley Hospice as our Barnsley charity!
Barnsley Hospice provide specialist palliative care and support to local people living with a life-limiting illness and those close to them. The hospice is not just a building – it is a way of caring for people. With their support, patients benefit from the best possible care throughout their illness and at the end of their life.
We are very proud to be supporting such a wonderful charity and cannot wait to see what this next year has in store for us!
#lovelocal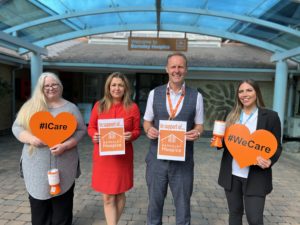 For more information on how you can support Barnsley Hospice, visit their website here: www.barnsleyhospice.org
To find out more about City Charity and the work we do, visit our website here: wwwcitytaxis.com/charity